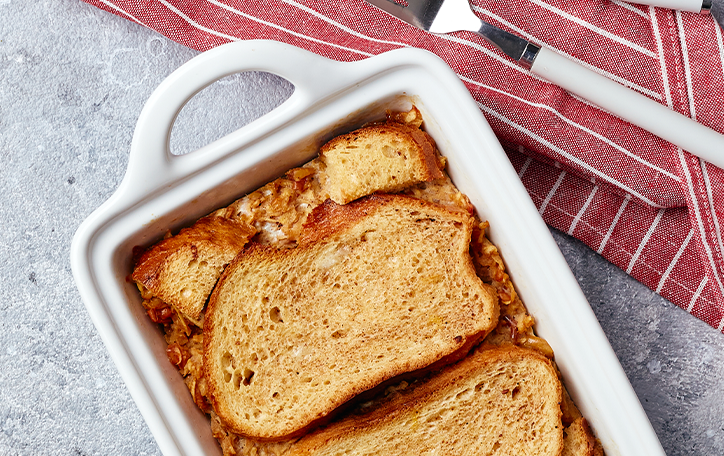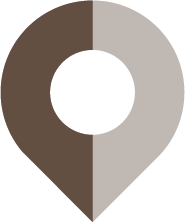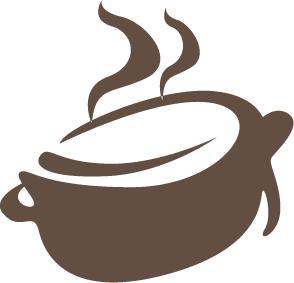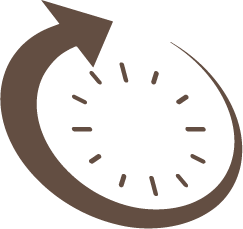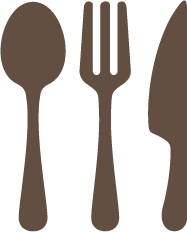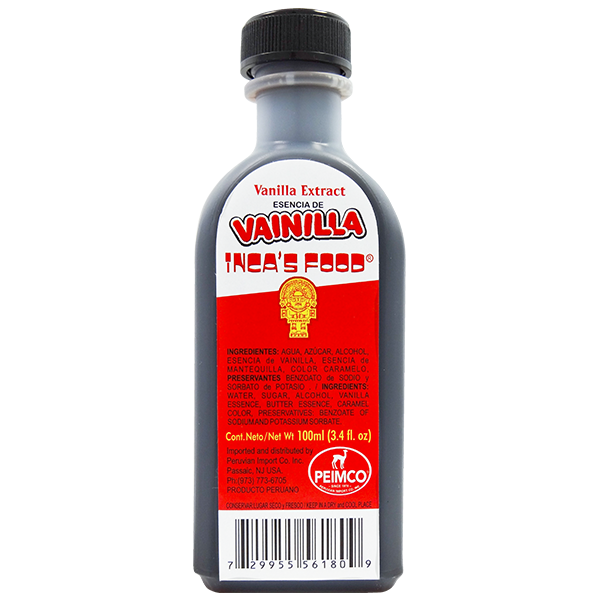 Cake
500 g. baguette or French bread
4 cups liquid milk full-fat cream
2 cups sugar refined
4 large eggs
2 tablespoon butter melted
¾ cup raisins
1 teaspoon Inca's Food Vanilla Essence
1 teaspoon orange or lemon zest
Caramel
½ cups sugar
2 tablespoon water
STEP 1
Preheat the oven to 180°F / 350°C. With your hands, crumble all the bread into small pieces (maximum 2 cm in diameter). Place the breadcrumbs in a large bowl for mixing.
STEP 2
Pour the milk over the breadcrumbs. Stir with a hand mixer, and very patiently mix all the bread with the milk, until all the breadcrumbs are moist. Stir for a couple of minutes until you get a thick paste. The consistency of this dish should be lumpy, so avoid using a blender.

STEP 3
Add the eggs one at a time. Each time you add an egg, give it a good stir before adding the next.

STEP 4
Lastly, add the sugar, melted butter, vanilla essence, and lemon zest. Stir so that the sugar is completely dissolved in the mixture. Sprinkle raisins on top. Stir once more to distribute and let the mixture rest while you prepare the caramel.

STEP 5
Turn the stove to medium-low heat. Place the mold on the stove, add the water and sugar. Stir with a teaspoon until all the sugar is hydrated. Don't stir this mixture too much as the sugar will caramelize. Cook for just a few minutes until golden brown.

STEP 6
After the first five minutes, the sugar and water mixture should be boiling vigorously. Wait another five minutes until it becomes dense and a nice golden color. Turn off the stove. Grasp the mold with tongs or gloves, and gently rotate it to distribute the caramel. Let it cool for a few minutes.

STEP 5
Pour cake mix into the pan. Next, place the pan with the bread pudding inside a larger fireproof glass pan filled with 3 cm of water. This type of cooking apparatus or method is called a bain-marie.
STEP 7
Take it to the oven for about half an hour to forty minutes. When the surface of the cake is golden brown, remove it from the oven and let cool for at least two hours.
STEP 8
Remove the pudding, start by separating the edges of the cake from the mold by inserting a sharp knife.
STEP 9
Serve in small pieces. Prepare 12 servings from the ingredients in this recipe.
Adapted from: https://www.eatperu.com/budin-de-pan-bread-pudding/