About Us
We, at Peruvian Import Co. Inc., manufacture, pack, import, export and sell at the highest quality of Peruvian food ingredients available in the market. Some of our exclusive brands include Inca's Food, Inca's Superfood, Dona Isabel, Inca's Herbs, Incagen, and Andes Food.  We also represent leading national Peruvian food companies with brands like Alacena, San Jorge, GN, Ajimoto, Choung Lee, and Sapolio. We extended our product lines to include Argentina's Arcor, Bagley, Tofi, and Bon-o-Bon brands. We have our own Colombian frozen line of products sold under the brand name Colombia Food.
A family owned business, Peruvian Imports was established in 1978, relying on our long standing relationships with farmers and vendors along with a self-owned processing plant that works around the clock in Peru.  We are always updating technologies and techniques to reinvent ourselves to produce the very best food products and innovations.  We currently sell in the United States, Canada, Great Britain, France, Philippines, Malta, Dubai, and many more.  We make this possible by using many different types of sales channels.
Peruvian Import Co.Inc. and its brands are proud to be Peru's Ambassadors, leaders and loyally representing the Brand Peru being that we were the first Company to introduce Peruvian food  in the United States.  We believe our products are  the best gastronomical food in the world that should be savored by everyone. Our mission is to make our products available everywhere.
Latest news and events in our community.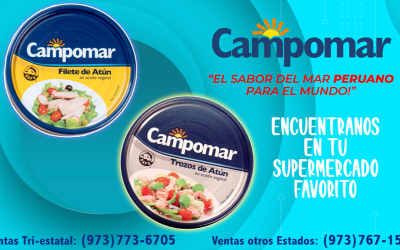 Campomar brings the flavor of Perú from around the world! Try our delicious Tuna in...
read more


Bringing home the flavors of Peru since 1978, we are pioneers and leaders in the market with unquestionable essence, flavor and tradition.